Honoring women by putting them last
This is the form on the Susan G. Komen website where, if you're giving a donation, you have to specify a title. There's several odd things about it. First up, where are the imperial titles like Sir and Dame? Do they not want the aristocracy to give money? What about religious titles? What if you were both Doctors? Or Professors? A badly coded list.
But the thing that really got me, given that this is an organization dedicated to a disease that mostly affects women, is that if you're putting two titles down, the woman's title comes last. Yes, yes, I know, that's convention, Emily Post probably says this is the way to do it, but it doesn't make it right. If any organization should put women first, it should be this one.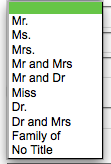 Posted by eroberts at August 3, 2009 4:50 PM